Dear TT,
For the past few months I have meant to write down your MANY accomplishments and changes on the blog but time is moving along at warp speed and here you are, about to turn 1! So, this post is going to be a catch up post before your big first birthday post.
The week of July 31 at 8 months old you started full on crawling, transitioning from crawling to sitting and started pulling up to standing. You also started drinking from a cup and started swallowing what you put in your mouth instead of just pushing it out as soon as it went in. I was so happy and relieved!
The week of August 4 you got your first tooth which was quickly followed by the second! You turned 9 months and you went from crawling slowly to being a very competent crawler and you let everyone know that you did not want to be left behind! You started following me and Q wherever we go. You also started sleeping really well around this time and I knew that our time cosleeping was coming to an end. It was a bittersweet realization even though I was expecting it since you kept trying to crawl off the bed! The weekend of August 16 you and I drove to Cleveland for the memorial service of your Great-Grammie. It was the first time you were able to meet a lot of the extended family and you won hearts right and left. When we returned from Cleveland we decided it was time to move you into Q's room! You kept sleeping well, Q didn't adjust fully for a few more months. That was ROUGH! Now you both sleep better when the other is there. By the end of August you were cruising along the couch and you started waving! You also started signing "Milk" and become obsessed with Signing Time, just like Q!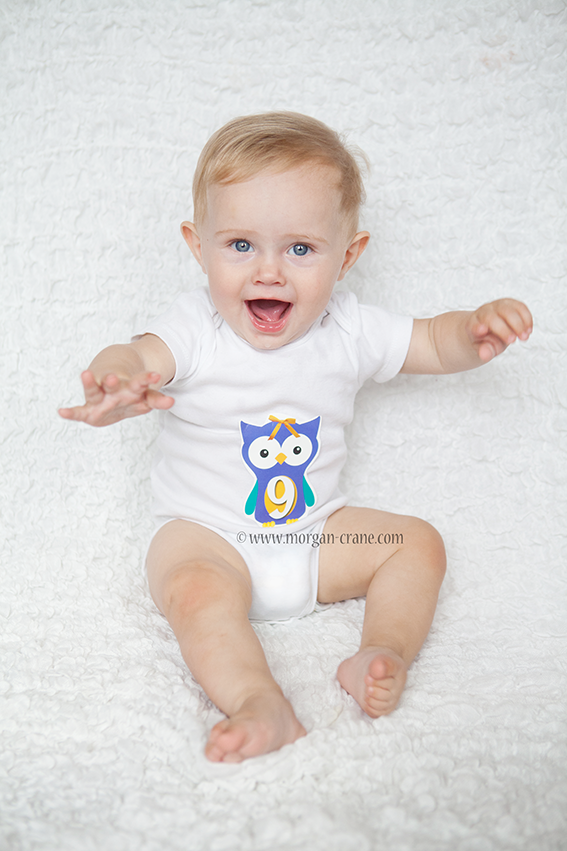 In September we took walks in the stroller almost every day. It was so great to be outside and have the weather start to cool off. You loved swinging at the parks and people watching. You thought Q is the bees knees and follow her everywhere. She started preschool and now we have three mornings a week together. We went to music class together on Tuesdays and you LOVE it. You are so into the songs and the CD (Flute Collection) will immediately calm you in the car! You love George and he puts up with your tugging and prodding and body slamming! At the end of the month we drove down to see Mimi and Tutu and you loved playing with the dogs and meeting the horses. While we were there you said "Hi Judge" and "Hi Bails" to the dogs. All three of us heard you and we were so impressed! You also had your first sign/word combo with "All Done"! On September 30th you said and signed "Mama" while we were walking around Costco. I was so happy that I cried.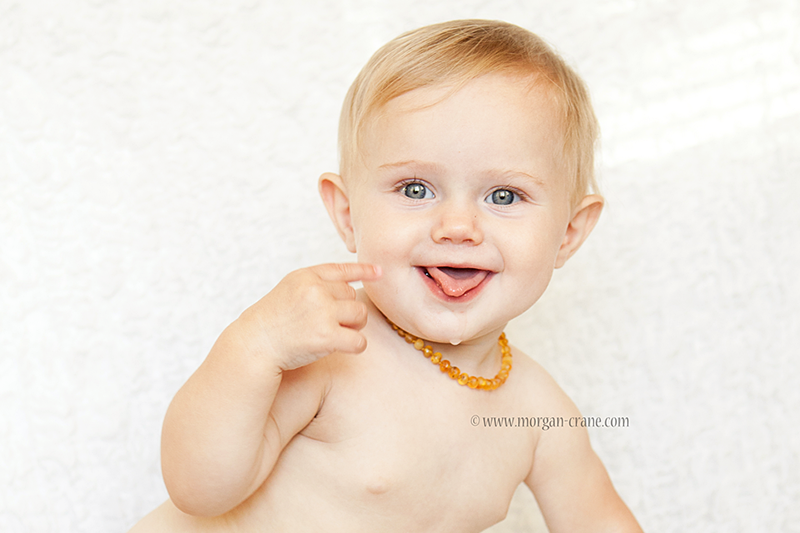 October started with a bang. On 10/3 your first top tooth broke through, you signed "More" and you started clapping! Later in the month we had a special nursing photo shoot with Dani and I'm in love with the photos. I try to have special times where it's just me and you instead of always playing second fiddle to Q. You continue to love music class and now you pat your knees when you hear the Hello song! My smart girl!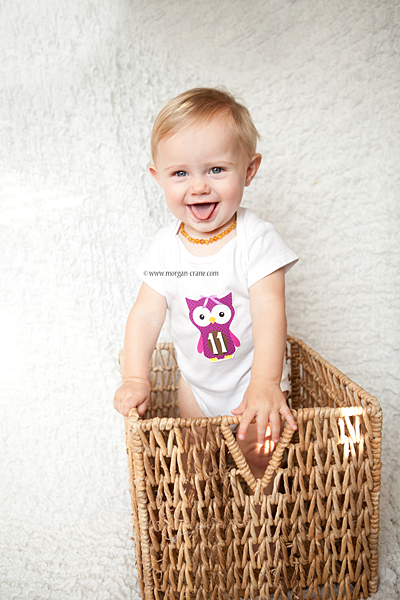 I'm having a much harder time with the idea of you turning one than I did when Q turned one. I'm cherishing babyhood in a different way the second time around. It's going SO fast and it makes me sad. I LOVE watching you grow and learn new things. It's so exciting to see you wake up to the world. At the same time, I keep asking myself, "Where did the time go? Where is my little baby??". My little baby is growing into a gorgeous toddler who is silly and fun and always exploring.
I love you so much, T. SO much. I miss sleeping with you at night and having that quiet time alone with you just watching you sleep. The transition to you sharing a room with Q has been hellish but hopefully we'll get the big payoff where both of you are sleeping well and you will share a special bond from sharing your space. Time will tell!
Love you the mostest,
Mommy